VISIT to Women in Military Service for America Memorial
On Saturday, April 14th, we are booked at the Women in Military Service for America Memorial and grounds in Arlington. Here is the link to the site: https://www.womensmemorial.org/
Sandy has arranged for a visit including a tour, to the Women In Military Service For America Memorial in. The tour and program will begin at 1:00 p.m. Members will be encouraged to leave time to find parking, walking to the visitor's center, and passing through security. A gift shop is on site.
Did you know that March 18-24 was "Women Veterans Week"? It was acknowledged by the Prince William Board of County Supervisors on their March 13th agenda. Here's hoping we can get on their agenda for the Equal Pay Resolution….
Lee is coordinating RSVPs for us; if we have 12 people (which can include family and guests), we may be able to get a limo or car service….. lmvannett@aol.com Please contact Lee by April 11th.
Prince William-Manassas Regional Science Fair Judging
Needed:  Members to judge middle school girls' science projects. The branch awards  prizes to outstanding projects.
When: March 10, 2018, from 8 am until 1 pm. A team of six members is optimum
---
28th Annual "Girls + Math + Science = SUCCESS!" Conference
March 17, 2018 at Marsteller Middle School, Bristow, VA
Branch members needed to help set up the cafeteria on Friday evening, March 16, from 7:30-10 pm. 
On Saturday, March 17, lots of help is needed between 7:30 am and 1 pm– in shifts for registration, preparing t-shirts for attendees, and the closing with evaluation collection and shirt distribution. Please Susan B. at successconference@juno.com with volunteer times, presenter contacts, and ideas.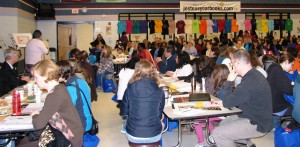 February Event
   "Looking to Spring" Luncheon
Despite the rain and ugly weather, several members met at Madigan's Waterfront restaurant to catch up, learn of upcoming events and enjoy good food and friendship.
Equal Pay For Women- Not in Prince William County, Virginia
While State and local governments all over the country recognized April 4 as Equal Pay Day, the symbolic day when women's wages catch up to men's earnings from the year before, this was not the case in Prince William County, Virginia. Board of County Supervisors Chairman Corey Stewart, along with Supervisors Pete Candland (Gainesville District), Vice Chair Jeanine Lawson (Brentsville District), and Ruth Anderson (Occoquan District), blocked the board from approving a proclamation recognizing Equal Pay Day in the county and would have "urged the citizens of Prince William County to recognize the full value of women's skills and significant contributions to the labor force." They felt, in part, that any discussion of a gender pay gap was a "political" issue, not fully based in fact.
Voting to approve the proclamation were Supervisors Martin Nohe (Coles District), John Jenkins​(Neabsco District), Maureen Caddigan (Potomac District) and Frank Principi (Woodbridge District) who also sponsored the proclamation. They understand that Pay inequality isn't just a women's issue; it is a family issue. Recent research has found that 50 percent of households with children include a mother who is either the sole or primary earner for her family.
You can hear what they had to say at the board meeting about equal pay for women at http://pwcgov.granicus.com/MediaPlayer.php?view_id=23&clip_id=2320, starting at eight minutes into the video.
---