Since 1991, Woodbridge AAUW has supported the Girls + Science + Math = SUCCESS! conference. Last year approxametly 200 5th-8th graders and 40 high school students attended with 125 parents and 10 teachers.  The career conference targets students in grades 5-12 and is open to all public, private, and home-schooled students and the adults in their lives- parents, educators, and community leaders.  With a focus on Science, Technology, Engineering, and Math, (STEM) a wide range of career presenters will provide awareness of the strong background necessary in both Math and Science courses in order to be successful in any aspect of the career world.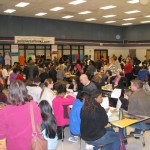 Conference presenters include careers from both traditional and non-traditional fields in Math and Science.  It is exciting to note that students who have previously attended the conference are now presenting in their chosen career field and parents of former student attendees are presenting, too.
The picture below shows the far-reaching effects of the Girls + Math + Science= SUCCESS! Conference.  It is from March 2012 and was from one of our presenters.  It is her niece, proudly wearing our 2010 yellow t-shirt while she was defending her Science Fair project in Maryland!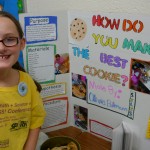 Past major corporate sponsors who provide funding for the conference include Micron, Lockheed Martin, ProChain Solutions, MaxTouch Soccer, Synergy One Federal Credit Union, and NOVEC.